Big dogs have plenty of space!

Safe and comfortable grooming area

Quiet and country but not too far away

Coach side play yard

Outdoor dog park

Premium boarding can mean socializing with similar temperments

Or you can play on your own

Our veterans feel like puppies here

We love new friends
In the beginning
Before starting Myownly Boarding Kennel, Cathi began her pet care career in 1968 at Northgate Veterinary clinic. With experience and a wealth of knowledge, she worked as a licensed animal-health technician in Lynnwood, Washington, for 20 years. She opened Myownly Boarding Kennel opened in 1989 and has provided Monroe, Snohomish County, and the greater Seattle area with high quality pet care and grooming.
Our facility is on 5 acres outside Monroe, WA. The original building holds 22 runs that are 5′ wide and 8′ deep. These runs face away from each other and include a privacy box. That being said, this area is much quieter and therefore perfect for shy, noisy, and antisocial boarders that need some space.
And then…
In 1992 walls were raised and Myownly Boarding Kennel expanded. The newest part of the kennel created a space with 30 varied 3′-8′ wide runs, heated floors, and indoor/outdoor kennels for dogs who require special care and space.
With a diverse set up, Myownly Boarding Kennel can accommodate and plan for almost every cat, dog, or special pet. We have two outdoor play areas, one covered and one out of doors. Both areas are secure by tall sturdy fences and surfaced with artificial turf to keep your pup clean and happy. Outside of the building we have plenty of space to go for a private walk and a dog park for off leash fun including fetch, agility work, and pool play time. Simply ask for our premium care package and we will be happy to provide the extra attention your pet needs.
Cathi envisioned a kennel provide a safe and trusted destination for pet owners to board their animals. Not only has she done that, Cathi has established herself as one of the most experienced groomers in the United States. Our staff is personally trained by her to ensure her high standards are met.
Beck's Place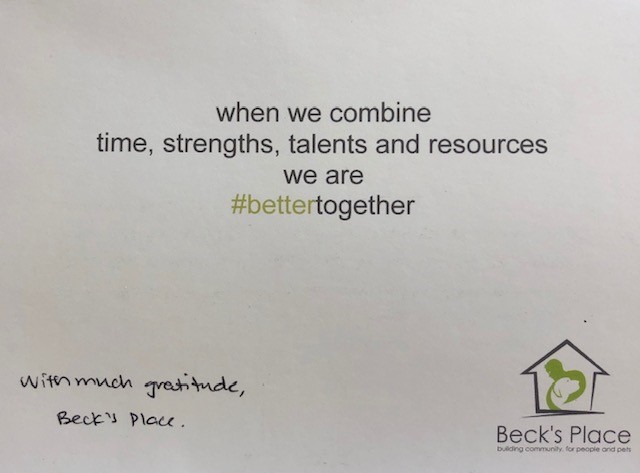 If you are looking for a good place to invest your time and give back, look no further than Beck's Place. Myownly Boarding Kennel has worked with Beck's Place for several years and they are a first class program that puts the pets, people, and community first. THANK YOU for all that they do! In short, this group of amazing people help people and pets through rough times. If you would like to learn more please visit their website becksplace.org and see how you can help your community.
Our country setting is relaxing
Pet owners love us and their pets can relax in the beautiful rural setting. In our surveys, clients say they know their family pets are safe and happy in our hands. Which in turn, gives them peace of mind as they travel.
We impress the professionals
Our pet nannies are very knowledgeable in caring for pets post surgery or with special behavioral issues. Veterinarians, trainers, and some rescue groups refer their most fragile dogs to us for safekeeping when needing dog boarding.
We're easy to get to
We are just 10 minutes off Monroe's major highways and 20 minutes to 405 and I-5. The kennel is open 7 days a week for easy pick up and drop off. That being said, Myownly is super convenient if you are on your way to Eastern Washington or the Pass.
We provide premium dog boarding and cat boarding for clients from Monroe, Snohomish, Gold Bar, Sultan, Startup, Maltby, Bothell, Kirkland, Redmond, Bellevue, Mercer Island, Everett, Marysville, Mukilteo, Edmonds, Lynnwood, and all over King County, Snohomish County, and Pierce County.
We are honored to win Angie's List 2015 and 2014 Super Service Award for our work. Please, read through our client reviews and see for yourself.